If you'd like to get in touch with me then drop me a bastard at fatpiemail@gmail.com if you have a question, save us both some time by having a gander at the Frequently Asked Questions page before you ask. If you are a member of the press or want to employ me for some kind of animation / video work then say that in the subject line so that it doesn't get lost. Try to avoid sending stuff to my Yahoo account now as it's become encrusted with junk spam crap.
Please don't send me any more big files. If you have music/animations/videos etc. you'd like to send me then use something like yousendit.com or rapidshare.de.
Anyone who forwards any kind of chain mail to me is (a) a complete idiot and (b) going straight on my list of blocked email addresses. Stop being such stupid shits. Bill Gates isn't giving away his money, MSN is not going to make you pay for messenger, the kittens in jars were a hoax, I don't give a shit about Sainsbury's vouchers and no, I haven't seen it on the news. Anyone who forwards this stuff on should be shot and then spat on. AND STOP BELIEVING THAT FORWARDING AN EMAIL TO 20 PEOPLE IS GOING TO TRIGGER SOME MAGICAL DISPLAY OF VISUALS OR GIVE YOU LUCK IN RELATIONSHIPS!
Thanks a lot morons for ruining email in general with your gullibility.
LEGO CHARITY!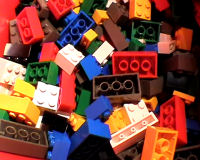 Thanks to everyone who sent me lego. I should have enough now.